User Interfaces for Live Programming
Summary
Live programming eliminates the gulf between code and execution. To design live programming systems, we first need to understand what we are developing. Once we gain domain-specific knowledge of the target applications, we create user interfaces to edit the running application, such as scrubbing sliders, color palettes, and timeline interfaces. The key to the fluid programming experience of live programming is the combination of deep understanding of the target applications and adoption of interactive user interfaces.
In the keynote talk at LIVE '17, I discussed the liveness of programming systems in light of user interface design. I introduced user interfaces for programming and discussed the importance of integrating graphical representations into programming environments. I extended the scope of "liveness" by describing two kinds of interactions, physical and developer-user, and provided insights on designing future live programming systems.
In particular, regarding the user interfaces for enhancing developer-user interactions, there are two sub-projects called Live Tuning and User-Generated Variables.
Presentation materials
Live Programming systems provide concrete information about how the program behaves when it is executed. With help of this concrete information, programmers can easily iterate on editing and testing the program behavior.
Please note that the origin of Live Programming is not new as you can see early examples in visual programming and object-oriented programming environments. Then, why is it attracting much attention these days? In short, I consider it is because of its focus on the user experience.
From now on, I will discuss three perspectives on user interface design of Live Programming systems.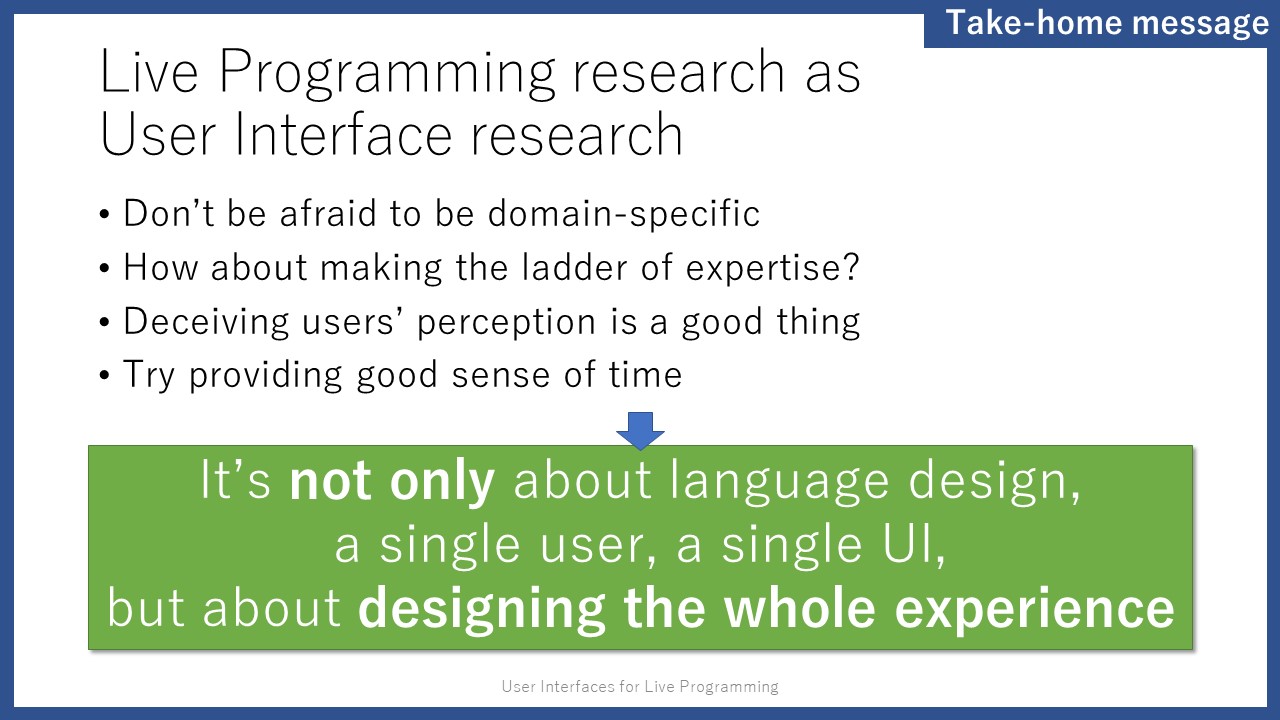 Relevant projects
The following projects implement or discuss Live Programming experiences.
Revision history
2/15/2018
Replace "Further reading" with the list of relevant projects. Please visit each project page for further readings.
1/21/2018
Upload the initial prototype version.